Due to unparalleled quality and superior service backed by decades of experience, we have chosen R.W. Fernstrum & Company to cool our equipment and are happy to pass along our OEM buying power for not only dissipating your HVAC heat load, but also your power plant and generator equipment.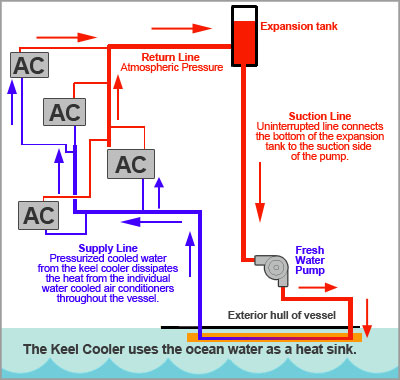 Rather than pump corrosive raw water through your equipment for cooling, install a keel cooler – you will extend your components life and never again have to clean a plugged strainer! Ideal for shallow coastal waters where seaweed, algae, mud, sand, and silt are a constant problem. These coolers can be surface mounted, recessed or side-mounted and have very little drag when properly installed.
Call us with your particular cooling needs and we will be happy to provide you with a very competitive quote.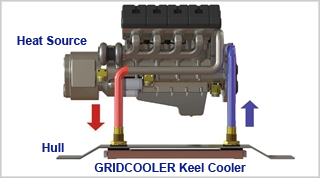 You can eliminate your troublesome water pump completely if you use a dry exhaust system, and actually, have no raw water in your vessel at all!

Surface mounting on an existing hull with a wedge-shaped fairing block as shown will not only protect the cooler from striking an object but reduce the drag to an almost nonexistent level.

Recessed mounted coolers offer the best protection, especially when hauling your vessel, and in new construction, this is the preferred installation.

For a shallow draft vessel, you may mount the cooler on either the side or stern of the vessel in a recessed or surface mounted installation. For HVAC cooling that is used dockside only, we actually mounted a cooler on the transom!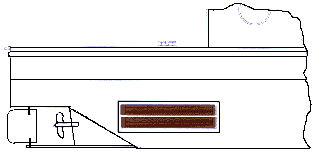 Side mount shown in a recessed compartment.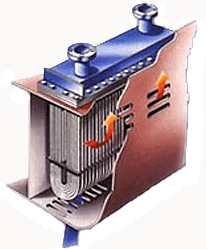 A BOX COOLER is one of our coolers mounted in a sea chest as shown. This offers you the best protection possible and gives you more flexibility for servicing and stacking multiple units in one compartment.
The unique Fernstrum design results in a smaller, more compact cooler for the same amount of heat rejection. The unique rectangular shape of our tubes provide a far greater surface area and negates the need for grooving, and our use of heavy gauge 90/10 CuNi we believe ends up in a far superior product.
So what does that do to the size of a cooler? In many circumstances, a kit cooler can be anywhere from 33% to 100%larger than a GRIDCOOLER based on the same cooling requirements. In addition, the sizing difference includes standard cooler loadings of 90% for a kit cooler and 75% for a GRID COOLER.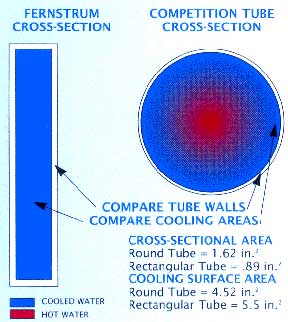 About Keel Coolers, in Particular, the R.W. Fernstrum GRIDCOOLER
| Fiction | Fact |
| --- | --- |
| A GRIDCOOLER can't be used in high-speed applications. | GRIDCOOLERS are currently being used on high-speed crew and patrol craft. The GRIDCOOLER creates a negligible amount of drag in high-speed applications, and their sturdy design will hold up under the most demanding conditions. |
| A GRIDCOOLER must be mounted in a recess. | Any GRIDCOOLER may be mounted in a recess or just externally mounted on the side, bottom or rake of the hull, depending on the vessel design. |
| GRIDCOOLERS require too many through-hull fittings. | Any GRIDCOOLER can use our L-Series option which requires only two through-hull fittings, one for the inlet nozzle and one for the outlet nozzle. |
| The GRIDCOOLER is more difficult to plumb than our competitors' coolers. | The two-pass or U-Flow GRIDCOOLER has both inlet and outlet nozzles on the same end of the unit. The nozzles can use a variety of fasteners including hose connectors, flanges, or threaded pipe. |
| Grooved round tubing is more efficient than smooth rectangular tubing. | This statement might be true, depending on the cross-sectional area and perimeter of the two tubes used in the comparison, but don't be misled into believing that the grooved tubing used by our competitors is more efficient than our tubing. The efficiency of the cooling units in question can be determined by simply comparing the size of one unit to the size of the other. If a GRIDCOOLER and a grooved tube cooler are sized for the same application, our GRIDCOOLER will be the smaller unit. |
| 70/30 copper/nickel is more durable than 90/10 copper/nickel. | If you are comparing apples to apples, 70/30 is only slightly more durable than 90/10 copper/nickel. However, in comparing our 90/10 to our competitors' 70/30, you may be comparing apples and oranges. Our 90/10 tubing is twice as thick as our competitors' 70/30. This increase in wall thickness more than makes up for any differences in material. |
| Welded and brazed joints can crack and leak. | Unlike"O" ring slip joints which leak under vibration, welded and brazed joints will not crack and leak under normal operation, and many units damaged by severe groundings or being struck by debris will still operate effectively without leaks. In a heavy pounding sea, kit coolers and their gasket joints can easily fail.GRIDCOOLERS are built to withstand heavy seas. |
| Brazed coolers can't be bent to conform to a hull's curvature. | Because of the ductile qualities of 90/10 copper/nickel and the inherent strength of brazed and welded joints, a GRIDCOOLER can be bent to meet your desired specifications. |